Ardmore, PA


Children's Birthday Parties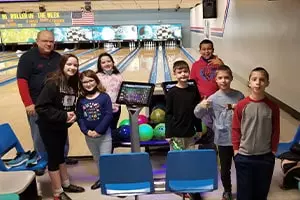 Whether your guest of honor is 4 years old or 95 years old, Wynnewood Lanes is equipped with everything necessary to make your party a success. With more than forty years of successful parties and our exciting Rock 'n' Bowl package (optional), leaving your party needs in our hands will leave you free to plan your guest list. Our facilities go beyond bowling - we have a party room where guests can retreat to enjoy a catered meal, open presents, or just relax.
Scheduling
Please keep in mind that it is best (but not required) to schedule your party two months in advance to ensure availability. Parties are 2 hours in duration: the first hour-and-a-half is bowling and the last half hour is held in the party room to eat and enjoy a slice of cake!

Quick Rules to note: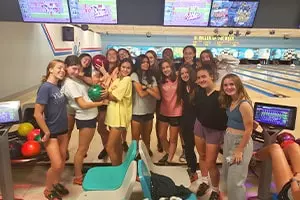 No outside pizza or alcoholic beverages are permitted.
Popcorn and ice cream are prohibited.
All birthday parties are by reservation only. No walk ins.
For a full list of rules, please visit our policies and safety page or contact a member of our team today!
Payment
We proudly accept Visa and Mastercard. We no longer accept checks.
Call 610-642-7512
Read WWL Policies