Delaware County, Ardmore, PA


Junior's Bowling League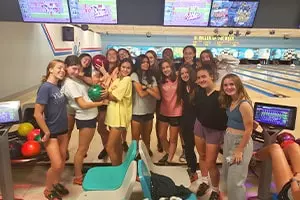 If your child has ever attended one of our birthday parties, he or she may have expressed an interest in learning how to bowl properly. This, along with learning about the sport of bowling (from understanding scoring, how to calculate the difference between a spare and a strike, choosing the right ball with the right grip, and also learning the proper form) is why our junior league is designed to wean the child off the bumpers and teach your child in an organized, well-managed league with certified coaches. In our leagues, no boy or girl sits on the benches. Everyone participates and learns!

Majors (older children) and minors (younger children) are the two divisions available. Your child will be placed in his/her age group at the start of the program. As they get older, they will be advanced to the next level. Bowling is a more widespread sport than you may think... don't be surprised if your child is bowling on the same team with other children they go to school with. If you would like to increase your child's comfort level, have them bring a friend and bowl on the same team together.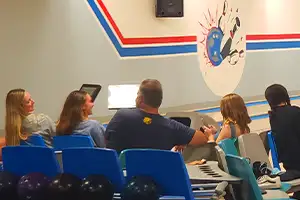 Our Juniors Scholarship League runs for approximately 29 weeks, from September until the end of March. Bowlers are provided with a certified coach and each child receives scholarship money. Ask a Wynnewood Lanes employee for details!

We have holiday parties and at end of the year pizza party, and award various trophies in all divisions.

Give us a call at Wynnewood Lanes for more information on how you can get your child in the Wynnewood Lanes Juniors Program.
Call 610-642-7512
Read WWL Policies